Deepika Padukone is one of the Hindi film actresses and a producer primarily working in the Bollywood industry. She is also distinguished as one of the highest-paid actresses in the industry. Among the most prized possessions, she has already got 3 Filmfare awards to her name. Furthermore, Deepika also features in some of the most prestigious listicles that list her as one of the most popular personalities of India. She has also been featured in Time's list of 100 most influential people in the world of 2018.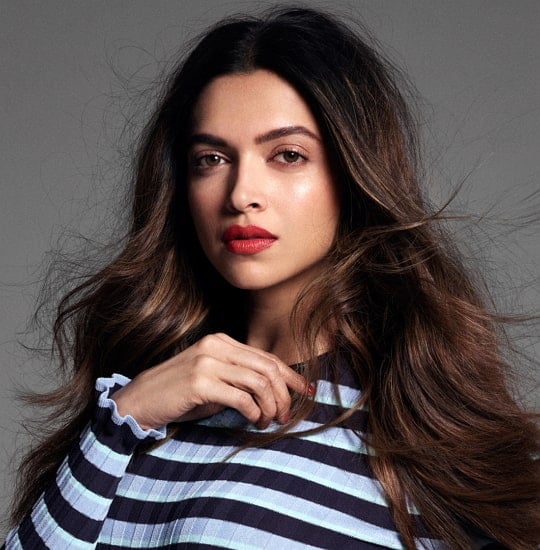 Deepika Padukone is also famous for being the daughter of Prakash Padukone, a world-famous badminton player, who has been a world number 1 badminton player in 1980 along with being the recipient of the Arjuna award and Padma Shri from the Government of India in 1982.
Though Deepika Padukone is famous for her movies, she started her Bollywood career with a dream debut opposite Shahrukh Khan in the movie title "Om Shanti Om," Deepika is also known as the founder of the Live Love Laugh Foundation. It is an organization that is established to focus on mental health awareness in India. Furthermore, the organization also brings up issues such as feminism and depression, where she is seen participating alongside in stage shows and other events. She has also written columns for a newspaper, designed her own line of women's clothing. With the popularity she enjoys, Deepika is often roped in by numerous brands where she is seen as a celebrity endorser and has now turned into a well-known endorser for many big brands and products across the country. Deepika Padukone has recently married her frequent co-star Ranveer Singh.
Deepika Padukone's Wiki/Biography
Deepika Padukone was born in Copenhagen, Denmark on 05 January 1986, to the world-famous badminton player from India, Prakash Padukone, and Ujjala, who is a travel agent by profession. Deepika's paternal grandfather, Ramesh, was also associated with badminton and had been the Secretary of the Mysore Badminton Association. Her younger sister, Anisha, is a golfer.
Her education was from Sophia High School in Bangalore, where she was raised after she came as a year old baby. Deepika spent her entire childhood and a significant part of her adulthood in Bangalore. She also completed her pre-university education in Bangalore itself from Mount Carmel School. She was later enrolled at Indira Gandhi National Open University (IGNOU) with a Bachelor of Arts in Sociology but she couldn't tackle that along with her modeling career and finally chose to quit the same.
Deepika Padukone was not only fond of playing badminton right from her childhood days but badminton was indeed the sole focus of her life back then. She had mentioned a typical school day of her life in a 2012 interview as, "I would wake up at five in the morning, go for physical training, go to school, again go for playing badminton, finish my homework, and go to sleep." She also described herself to be socially awkward in her childhood adding that she did not have many friends back then.
However, her destiny was to be in the movies, which opened its doors when she started her career in modeling towards the end of high school and began to pursue it seriously in her college.