Mumbai: In this ongoing Tokyo Olympics 2021, India has made us proud by creating history. The Indian women's hockey team entered the semi-finals and became the first-ever team from the country to do so. However, they missed out on winning a historic bronze medal at the Tokyo Olympics. The team might have lost the match, but they have surely inspired many girls to take up a sport as their career.
Many celebrities showed their support to the Indian women's hockey team on their social media for their stellar performance. Shah Rukh Khan also shared a tweet praising the girls.
ALSO READ | WATCH | India Women's Hockey Team Get Emotional During Telephonic Conversation With PM Modi
SRK tweeted, "Heartbreak!!! But all reasons to hold our heads high. Well played Indian Women's Hockey Team. You all inspired everyone in India. That itself is a victory."
Indian hockey team coach Sjeord Marjine reshared SRK's tweet and thanked him for showing his love and support in the Tokyo Olympics. The Indian women's hockey team coach, however, tagged the wrong account of Shah Rukh Khan.
Sjeord's tweet read, "Thank you @srk for all the love ! It's great to have support from the best in Bollywood. It's time for Chak De part 2, what say?"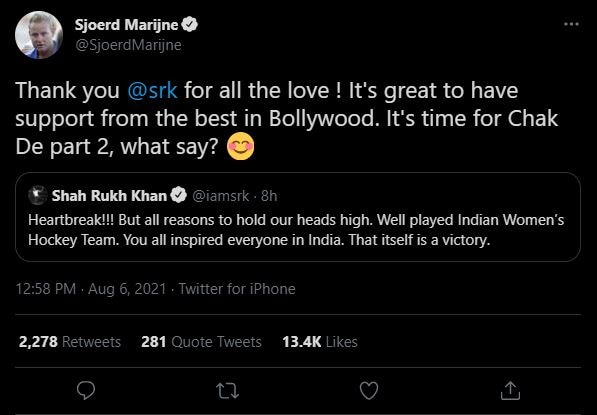 A few days back, Sjeord and the 'Pathan' actor exchanged tweets where both of them can be seen celebrating India's victory when the girls defeated Australia to enter the semi-finals.
Meanwhile, speaking on the professional front, Shah Rukh Khan will be next seen featuring in a lead role in the upcoming movie 'Pathan'.
ALSO READ | Shah Rukh Khan To Romance Nayanthara In Atlee's Next, Will Play Double Role; Details Inside!
Follow this space for more updates.